The founder of oncological care in Semipalatinsk region is Belskaya Erika Rudolfovna, Honored Doctor of the Kazakh SSR, excellent healthcare worker, doctor of the highest qualification category. In 1948, the first oncology office was opened in Semipalatinsk. In 1959, the regional oncological dispensary was organized. 
Mission of the Center of Nuclear Medicine and Oncology
Achieving high quality and accessibility of medical care based on the priority development of the oncological service.
Improving life expectancy and quality of life by reducing mortality from cancer.
Center of Nuclear Medicine and Oncology has successfully passed accreditation and confirmed compliance with national standards on quality established in the Republic of Kazakhstan.⠀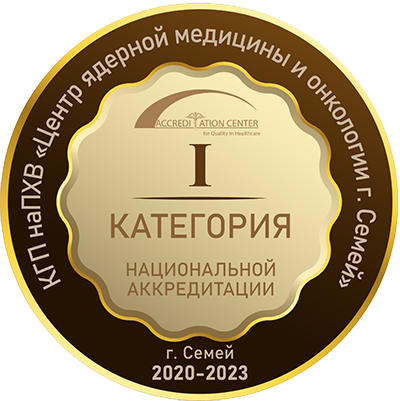 Центр ядерной медицины и онкологии успешно прошёл аккредитацию и подтвердил соответствие установленным в Республике Казахстан национальным стандартам качества.⠀⠀
Group of experts from Public Association "Experts and Consultants for External Evaluation in the Healthcare Sector" worked at the Center for Nuclear Medicine from November 9 to November 13. Experts assessed all working processes of the Center within both clinical and auxiliary subdivisions. ⠀
Based on this procedure, the Center received high assessment rating and certificate of accreditation that proves high standard of quality of services, comfort and safety of patients. ⠀
⠀
We express our congratulations to the entire staff of CNM&O in Semey upon this important event!